Are you planning to perform Umrah this year in the UK? If so, then you must be really concerned about the hotel accommodations. We know you want to choose a hotel that offers the finest services. But, you also want a hotel that is closer to Haram. Don't worry, we have got your enquiries covered in this blog. So, if you want to discover the 5 star hotels in Makkah near haram, read this article. 
5 Star Hotels in Makkah Near Haram List 
Every pilgrim wants to stay close to the Kaaba. And not only because it helps you avoid the traveling hassle, but also because it offers you a pristine view of the city as well as the Kaaba at all times. And honestly, what's better than that? 
However, we have carried out extensive research and come up with the best and most affordable 5 star hotels in Makkah near Haram for you. So without any  further ado, let's dive in.
Hilton  Makkah Conventional Hotel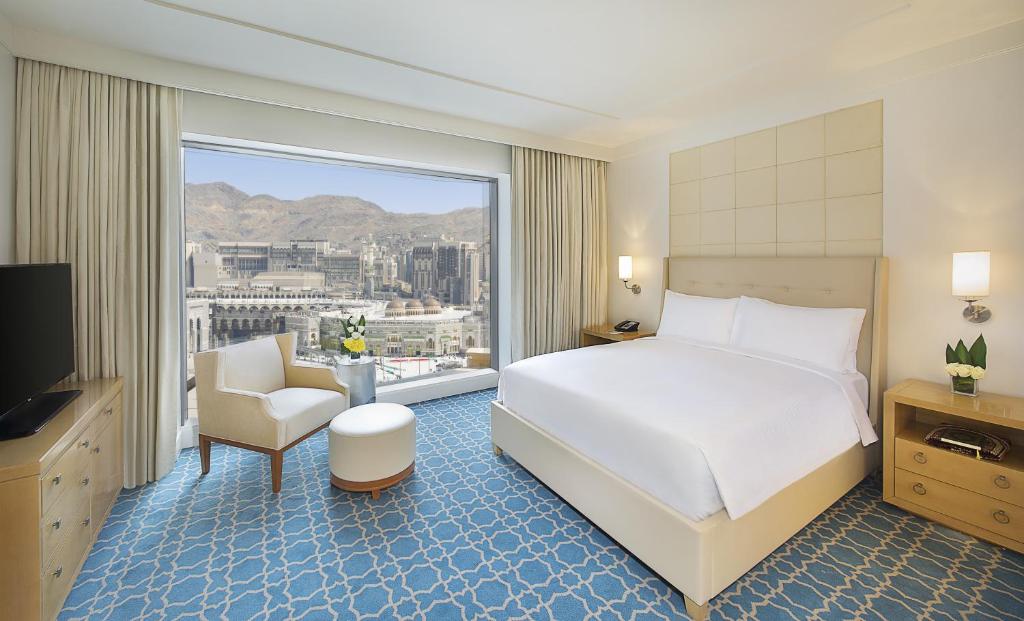 So, the first question is, how far is the Hilton Makkah Conventional Hotel from Haram? The good news is that it's only a few minutes away. So, if you're staying in Hilton makkah Hotel, it will only take you 2-3 minutes to reach Haram. This suggests that it is the nearest 5 star hotel in Makkah near Haram. Let's look at some of the finest services they offer
Services they Offer: 
Free Wifi 

Free Parking 

Connecting Rooms

24/7 Reception Service 

Fully Air-conditioned Rooms

Finest Dining Services 
Pullman Zam Zam Makkah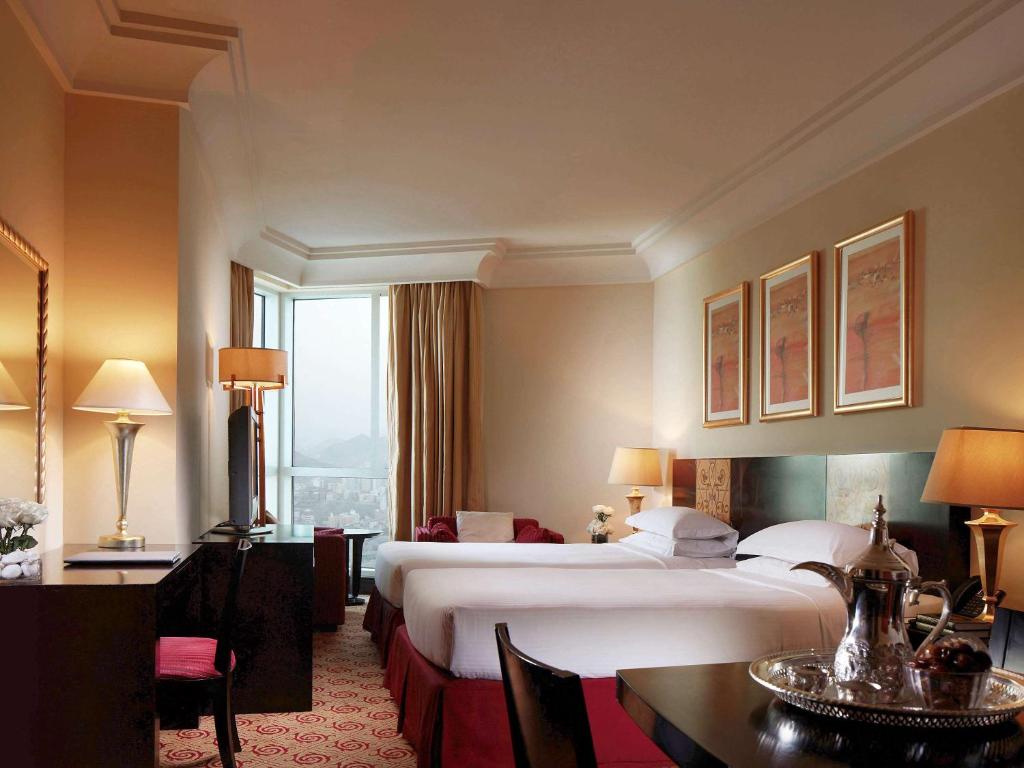 Pullman Zam Zam Makkah hotel is one of the most frequently booked hotels located in Makkah near Haram. It is approximately 350 metres away from Haram. Furthermore, it is also known that Pullman is located in one of the highest-rated and most luxurious areas of Makkah. It offers countless facilities that makes your stay peaceful and relaxing. 
Services they Offer! 
Working Units, in case you want to work without getting disturbed. 

Elevator Services

Awe-inspiring views from the Hotel 

Rooms with Mini Fridge and Safe Deposits Boxes

Gourmet Cuisines at the Hotel

Buffet Breakfast in Lounge or Room 

All Services for Disabled Guests
Conrad Makkah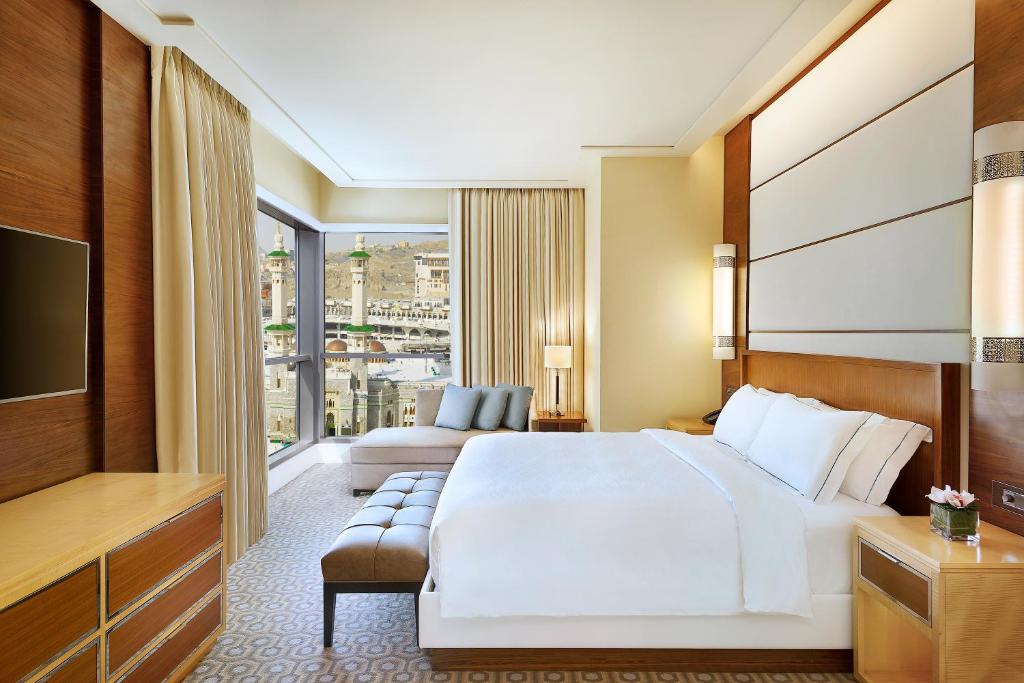 Here comes another hotel among the list of the top-rated 5 star hotels in Makkah, near haram. This hotel speaks of luxury. Moreover, it is nearly 500 metres away from Al Haram. If you see reviews about hotels near Haram in Makkah, you will get to know that it is one of the highest reviewed hotels. One of the best features of this hotel is their focus on cleanliness and hygiene. And as a pilgrim, this is one of the most important aspects of your journey. 
Services they Offer
Check-in Facility Available at All Parts of the Day

Valet Parking Services 

A Huge Outdoor Swimming Pool 

A Gym and Fitness Center 

Free Wifi that can be Accessed in All Areas

Rooms with Incredible City & Outdoor Views
Hyatt Regency Makkah 
While being close to Al Haram, this hotel offers a great ambiance as well as an elegant atmosphere that leaves you no choice but to relax. Furthermore, if you're staying in Hyatt Regency, , it will only take you a minute to reach Haram. So, this makes it a perfect reason for you to stay in Hyatt Regency. 
Services they Offer!
Digital Keys & Check-in System 

A Concierge at Your Service 

A Great On-site Dining Experience 

Free Laundry Services

Fitness Center 

Mutli-lingual Staff
4 Star Hotels in Makkah Near Haram 
If you are looking for cheap hotels in Makkah near Haram, we have you covered. As we have mentioned some of the cheapest 4 star hotels in Makkah near Haram, just so you can choose your hotel easily. 
The cheap hotels in Makkah near Al Haram include Dar Al Eiman Ajyad Makkah, Nawazi Watheer Hotel and Ramada Dar Al Faiyzeen. These hotels are affordable, as well as offering incredible and outstanding services. Secondly, they are located only a few minutes away from Al Haram. So, it means you have to spend no money on buses and rental cars to go to Haram. 
Some of the amazing services that these 4 star hotels offer include, on-site parking, safe storage and luggage deposits, neat and clean washrooms, air-conditioned rooms with TV's and satellite channel facilities. Lastly, a 24-hours room service is also available. 
Cheap Hotels in Madinah Near Haram 
While going for Umrah, a visit to Madinah is mandatory. Most pilgrims spend half of their time in Makkah and the other half in Madinah. However, the duration of your stay is up to you. But you still need a hotel to stay in, and this is where we come in to help you. 
Here's a list of some of the most economical hotels in Madinah near Haram. 
Although it's a 3 star hotel in Madinah, you can still find some of the best services here. This hotel is very famous for its family-oriented environments. It has air-conditioned rooms with free wifi services that you can use around the premises of the hotel. Moreover, it also has a concierge and a 24 hour room service facility. No matter what time of day it is, you can check in and check out whenever you want. Additionally, this means that they have an all time available reception service. Lastly, It is one of the best hotels for a safe and security regulated stay.

This is one of the best hotel in Madinah. You can get some of the most amazing and discounted deals at this hotel. Also, Al Eiman Al Nour isn't only cheap, but it also offers undeniably great services including on site car parking services, air-conditioned rooms and clean bedrooms. Moreover, if you have pets with you, you can also bring them to the hotel as it is a pet-friendly hotel. 
Rawda Al Haqeeq is nearest to Haram in dinah. Furthermore, it is also among one of the top-reviewed hotels in Madinah. Secondly, similar to every hotel, it offers air-conditioned rooms but with plasma screens. Thirdly, with a little additional charge, you can also avail laundry services. Lastly, the staff is really friendly and available to assist you at all times. 
Final Words!
We hope this blog has helped you in finding the 5 stars hotel in Makkah near Haram and cheap hotels in Madinah near Haram. In case you want to explore some more options, feel free to contact us. Moreover,check out the latest umrah packages deals by Almsulim Travel . Lastly, our staff is always available to help you.